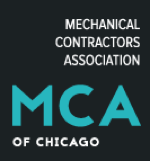 Mechanical Contractors Association of Chicago
7065 Veterans Blvd.,
Burr Ridge, IL 60527
(312) 384-1220
(630) 655-3287 Fax
MCA recognizes the excellence in CBHCC's education program, forming a partnership with CBHCC in 2006 whereby MCA pays its members' dues to the Council. The result – that CBHCC membership is a benefit of belonging to the MCA – adds to the excellent value that is MCA membership.

Pipe Fitters' Training Center
Local Union 597
10850 W 187th Street
Mokena, IL. 60448
(708) 326-9240
(708).326-9241 Fax
CBHCC's history with Local 597 goes back almost to the time CBHCC was founded. CBHCC schools serve as primers or refreshers on subject matter that's covered in-depth through Local 597's excellent training program. Service technicians from contractors (and counter personnel from supply houses) attend CBHCC schools for an introduction to a subject or equipment line, or to brush up on a topic they haven't come across for a while. Local 597 generously provides classroom space and instruction for a number of CBHCC schools each year.